Compost is a natural ingredient that makes our soil clean, green, and viable for living. For those of you who have gardens, you know plants prefer natural fertilizers over synthetic ones.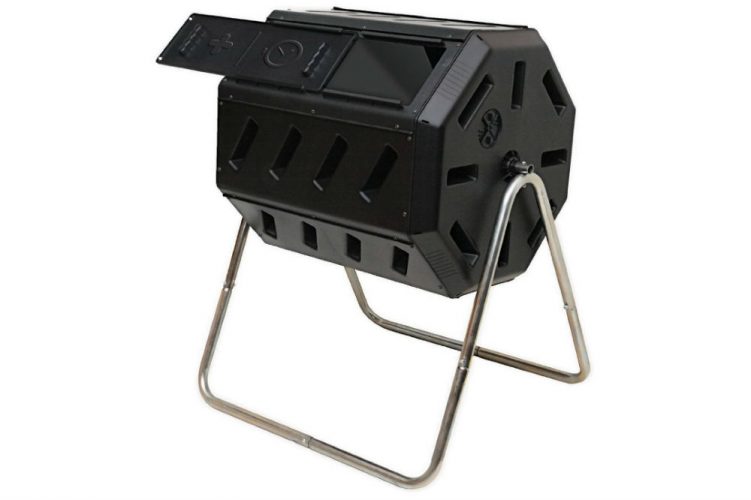 A good thing for us, compost can be created by recycling our organic waste.
Waste such as kitchen scraps, paper, meat, fruits, and veggies are all viable ingredients for creating compost. If you want to cut down spending while making the earth a cleaner and greener place, then you'd better start composting ASAP.
See Price on Amazon
If you're gonna compost, then you're gonna need a composter. And luckily for you, we have a composter in mind. It's cheap, durable, and will make your garden a living paradise. We present to you the Yimby Tumbler Composter.
The Yimby Tumbler Composter features two chambers, so you can fill up one chamber while the other keeps on composting. This two-chamber feature will ensure that you can have a continuous supply of fresh compost for days to come.
Yimby Tumbler Composter was made to speed up the composting process. Features such as its multiple air vents and effective absorption of heat, can cook up compost and make it usable in just a matter of weeks. More of its features are listed below.
Features of the Yimby Tumbler Composter, Color Black
The composter contains two chambers for a steady supply of compost.
The composter is made of high-quality recycled plastics.
The composter has a 37-gallon
The composter can make compost in a short time. 2 weeks to be exact.
The composter contains multiple air vents to speed up the process of composting. Additionally, the air vents are adjustable for the user's preference.
The composter comes with easy-to-understand instructions.
The composter is made of black plastics to trap and retain heat.
The composter has a corrosive-resistant steel frame, which makes the composter rust-proof, and ensures the frame will last for a long time.
The composter has dimensions of 36 x 31 x 28 inches.
The composter has a weight of 26.6 pounds.
The composter is weatherproof, so you won't have to worry about heavy rains ruining your compost.
When fully assembled, the composter has a height of 32 inches, which is two and a half feet tall.
Pros
The composter is very small and portable. If the composter is fully disassembled, then the composter can fit into a large suitcase.
If the manual isn't of much help, or it is too complicated to understand, then look online since the company provides easy-to-understand guides and videos on how to properly operate and assemble the composter.
The composter's dual chambers allow you to fill one side while the other composts. It will ensure you have a steady supply of compost for years to come.
The composter is really sturdy. It is designed to function even if it takes considerable damage.
The composter stores heat easily, so it can even run in cold winters. Just make sure to turn the composter regularly to make sure its joints won't freeze over.
The composter's parts are a little bit generic, but that means that it is easy to find and replace damaged parts.
The composter can make compost quickly with its adjustable air vents and hot temperatures. Expect to make a batch of quick compost in under 2 weeks.
The composter takes quite a while to assemble, but once assembled, it will stand the test of time. Additionally, the composter comes with spare parts, like extra screws. So if you lose some parts during assembly, know that you can still make it work.
The composter is rodent-proof. Its galvanized steel frame raises the composter up in the air to prevent rats from ever reaching it. Additionally, the composter can be sealed tightly to prevent bugs and other pests from entering.
Cons
The manual and online guides are easy to understand, however, assembling this composter will take you hours. And one faulty move may mean that you have to start over again. We suggest you ask help from mechanically inclined people.
The composter has a very small opening. Using a shovel to scoop out the compost is nearly impossible.
The composter doesn't have an effective drainage system, so expect leaks to come out from time to time.
See Price on Amazon
Verdict
We give the Yimby Tumbler Composter a very good rating. This composter is simply exceptional because of its dual chambers.
Most composters feature single chambers, which greatly limits their versatility. The Yimby Tumbler Composter is also very durable and can function even when taking significant damage. It is a composting tank.
Now you may ask, "Is this the composter for me?" Well, do you like a small, but effective composter? Do you want a ruthless and non-stop machine that produces compost after compost? And are you on a budget?
If you answer yes to any of those questions, then the cheap but exceptional Yimby Tumbler Composter is the right one for you.