Turning a compost pile is, without a doubt, one of the most tiring things you need to do when composting. It's exhausting enough that some folks just opt out of the activity altogether.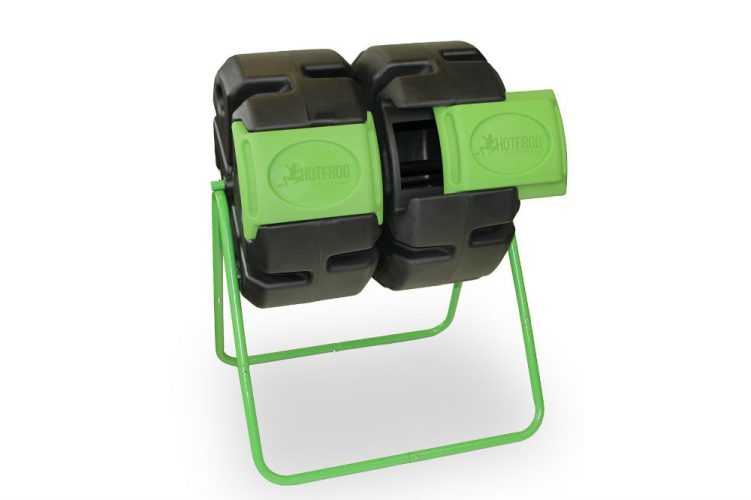 This is one of the many reasons why compost tumblers were created.
They make turning your compost pile easier so you don't have to bother about raking and shoveling your compost ever again.
Check Price on Amazon
Unfortunately, not every compost tumbler is easy to turn. While the mechanism is there to get the job done, they can get too heavy when filled.
This makes turning a serious exercise as turning some of the tumblers available in the market today requires a lot of effort.
This makes the FCMP Outdoor Hot Frog Dual Body Tumbling Composter a nice breath of fresh air for lots of homeowners. Its separate compost chambers make turning a breeze. You won't need a serious amount of upper body strength to spin these bins as they're quite easy to move.
Many also liked the design of this unit. The removable doors are labeled with the words "start" and "finish". These will let your kids know where to put the kitchen scraps for composting when asked to. It also comes with several holes in the side ensuring ample airflow.
Made of recycled polyethylene plastic that's also BPA-free and UV protected, you're guaranteed that this bin is made of safe, high-quality materials. It can promise durability and won't easily get sun damage even if you leave it in your backyard to do its work.
A serious gripe a number of owners have is that liquids can actually leak in and out of the unit. This is a serious concern as your compost shouldn't be soaking wet all the time.
This can slow down the composting process and may even cause a foul odor to emanate from your composter. It can also spell disaster for the microbes in your heap.
Leaks are a problem as well. No one wants to compost tea all over their deck, patio, or balcony as it can get smelly. It will also attract bugs which are another issue altogether.
To remedy these issues, you can place your composter in a covered space. If you can't do this, you can also opt to just cover it with a tarp or any other material. As for the compost tea leaking out, having a tray or bin underneath the unit can help.
It's also important to always monitor the moisture levels inside your compost tumbler. It shouldn't really be too wet for it to have lots of compost tea to release in the first place.
Features of the FCMP Outdoor HOT FROG Dual Body Tumbling Composter
Recycled Polyethylene Construction
BPA-Free and UV Protected Material
2 Separate Compost Chambers
37-Gallon Capacity
Deep Fins
Aeration Holes
2 Removable Doors with Labels
Powder-coated Tubular Steel Frame
Pros
Perfectly easy to assemble
Made in Canada
Very easy to spin
Will fit in small yards, decks, or back porches
Separate chambers allow you to work on two compost heaps at the same time even at different rates
Labeled doors so everyone at home will easily know which composter is stewing and which one to add to
The removable door makes labeling simpler
Made of recycled plastic
Highly durable and can withstand prolonged exposure to the sun
Solid cast compost chambers freeing you from a laborious assembly
Nicely built
Cons
The liquid can easily get in and out
Check Price on Amazon
Who is it Best For
One of the best feedbacks about tumbling composters with separate chambers is that parents are able to get their young kids involved in the process. Spinning a plastic container on an axis does seem like a fun thing to do for young kids that they'd want to do it, too.
Parents can then take it as a teaching opportunity to their kids about recycling and the environment. It can even introduce a nice bonding activity for families.
This is why young families can really be the best users of the FCMP Outdoor Hot Frog Dual Body Tumbling Composter. Not only is this because they're quite small in size, but also because they're very easy to operate.
Even kids can be asked to turn the pile every now and then, as tumblers wouldn't be too heavy to handle.
Also, because of its size, this product can be a solid pick for those who live in small spaces. It will already give you enough room for continuous composting even without having an actual backyard.
Verdict: Should I Buy It?
With its design, you can be guaranteed that the Hot Frog Dual Body Tumbling Composter is designed to make composting easier for homeowners.
This alone can be enough to convince lots of people that this product is a good choice. Add to this its solid construction and convenient features and you really have a top-notch option available to you.
If it fits your needs and requirements, why not give it a shot? It might just change your composting methods for the better.