This article contains affiliate links. If you make a purchase after clicking on a link I may earn a small commission at no extra cost to you.
Did you know that human waste can easily convert into compost for your garden? Well, if you are into gardening, then we are on the same leaf.
You already know that ready-made compost can be quite expensive, but making your own will save you money.
Our Choice
After intensive research, Nature's Head Self Contained Composting Toilet proved to be the best choice. What is so special about this composting toilet? It's ideal for use in harsh outdoor conditions, including a marine environment, separates urine from fecal matter, and features an air cleaning design.
Dive in for more about this sturdy unit, seven other fantastic alternatives, and vital information on composting toilets.
8 Best Compost Toilets Comparison Chart
Image
Product
Prime
Brand
Buy

Top

Top

Nature's Head Self Contained

Prime

Nature's Head
Buy Now

Top

Villa 9215 AC/DC

Prime

Eligible

Separett
Buy Now

Top

Nature's Head Dry

Prime

Nature's Head
Buy Now

Top

Sun-Mar Portable Toilet (for RV)

Prime

Eligible

Sustainable Village
Buy Now

Top

Porta Potti

Prime

Eligible

Porta Potti
Buy Now

Top

Camco Portable Travel Toilet

Prime

Eligible

Camco
Buy Now

Top

Stansport Portable

Prime

Eligible

Stansport
Buy Now

Top

Reliance Loo Portable

Prime

Eligible

Reliance
Buy Now
Compost Toilets Reviews
1. Nature's Head Self Contained Composting Toilet – Best Overall
If you're looking for the best Composting toilet, Nature's Head Self Contained composting Toilet is the most reliable option. It is highly ranked thanks to its self-contained and urine-diverting quality.
Besides, you do not need water for this composting toilet to function. You can use it in places with no electricity, during camping or on vacation cabins. This product can withstand any harsh marine conditions.
Most people find it hard dealing with odor when it comes to compost toilets, but that isn't a problem for Nature's Head Self Contained Composting Toilet.
The low-volume circulating fan built into the head provides air recycling to eliminate foul odor. The stainless construction hardware is remarkably durable, making this unit suitable for long-term use.
Pros
User-Friendly Design
Durable stainless steel construction
Urine separating model
Air circulating fan for air cleaning
Can withstand the harsh marine condition
The self-contained design makes it best suited for outdoor use
Cons
See Price on Amazon
---
2. Villa 9215 AC/DC – Runner-UP (No Odor)
Villa 9215 AC/DC is famous for its urine-separating feature. Moreover, this design was named based on its ability to connect to alternating current or DC power supply interchangeably. Furthermore, it comes with a single fan with a high speed capable of venting up to 20 feet.
You won't be able to smell any foul odor. Even more, the fan comes with a three-year manufacturer warranty, which is an advantage since it has a robust and long-lasting design.
Villa 9215 allows you to include a child seat if you wish for one. This system's interior contains a compostable bag that houses the waste, making it easy to dispose of it when the whole process is complete. You don't need to worry about touching the trash if you do it the right way.
The vent serves two purposes; cleaning out the smell and drying the waste. This is hugely beneficial for the decomposition process.
Pros
It is powerable by both AC & DC
Single solid speed fan that vents up to 20 feet
Includes the compostable liner bag reducing costs
It is urine-diverting
No flush tank needed
Cons
See Price on Amazon
---
Upgrading your old-fashioned toilet is normal when your concern for the environment is enormous. Nature's Head Dry Composting Toilet is a simple RV toilet system designed for boats. Maintaining this unit is hassle-free, so you can use it in homes or cabins as well.
If you compare the first two units with this RV composting toilet, you will realize this design calls for unbleached & decomposing septic-safe toilet paper. However, it is still worth it. This brand's most significant selling point is its durable steel construction and the trap door that divides the urine and solid waste section.
This unit's main disadvantage is the slight odor that might arise from the urinal section since it's not entirely covered up. However, soap and some water can be an excellent remedy.
Pros
It is a waterless toilet hence an efficient resource use
Internal fan facilitating proper circulation
Durable steel construction
Great separation between solid for easy emptying
Effortless maintenance
Cons
Not budget-friendly
The urine section may have an odor issue
See Price on Amazon
---
4. Sun-Mar GTG Composting Toilet – Best Compact & Portable
Sun-Mar GTG Composting Toilet is the best compact & portable compost toilet on our list. It is easy to use, and the installation process is straightforward. Its simplistic design makes it ideal for a tiny house, thus better than most selections out there that occupy a lot of space.
Besides, having a liquid and solid separator has enabled the GTG to become user-friendly. You can easily connect or disconnect when you need to, especially if you need to access the composting material underneath the toilet seat.
You can pour out the liquid waste with ease, while you can directly retrieve the solid waste. Use the composter liner bag that comes with it whenever you need to empty your compost.
Furthermore, this composting toilet has an inbuilt fan/vent that ensures unfavorable odor gets eliminated and speeds up the composting process by promoting aerobic conditions.
It is a low hassle model that aims at increasing environmental impact, in the same way, incinerating toilets do. Lastly, it is a waterless toilet.
Pros
Easy to remove seat/separator
Dual-chamber system for efficient functionality
Inbuilt ventilation fan for ample air circulation
Compact and straightforward for portability
Cons
See Price on Amazon
---
5. Porta Potti 92306 White Thetford Corp – Best for Travel
Porta Potti 92306 is a modern, sleek design composting toilet that is comfortable due to its home-like feel. It comes with a battery-powered flush and a comfortable seat height
No one will sacrifice this over an ordinary toilet. Besides, it is termed as the best composting toilet for travel.
This design comes with curve separators that allow you to hold the tank and its spider handle easily. Besides, the integrated holder helps keep the toilet paper affixed to the curve. To keep the toilet paper out of sight and clean, you will need to close the compartment when not in use.
This sleek design can accommodate up to 50+ flushes in a single fill, thanks to its tank capacity. It suits group use, and its maintenance takes less time. It has a tank level indicator that eliminates the guesswork in case the storage tank is full.
You can always empty the waste via the out spout to drain contents without spillage. The airtight valve plays a significant role in preventing leaks when emptying your trash.
Pros
Tank level indicator to ensure preparedness
Pour out spout for convenient emptying
Sanitary spout cap for maximum sewage control
Integrated toilet paper holder for convenience
Airtight valve to prevent leaks
Large tank capacity allowing over 50 flushes per fill
Cons
Weight capacity at 265 pounds limits user compatibility
See Price on Amazon
---
6. Camco 41541 Portable Travel Toilet – Best for Camping
If you're looking for the best camping compost toilet, Camco 41541 is a great emergency option for long car rides. Its material construction is sturdy polyethylene that is compact and lightweight.
It supports up to 330lb of poop in the waste tank, making it convenient for recreational activities.
The flash tank can hold 2.5 gallons of water with a toilet lid, a seat, and a bowl. The top has a removable toilet cap that keeps the seat covered when not in use. There is also a bellows-type pump on the other side whose function is to flush the bowl's content.
There is a sliding gate valve on the bottom half waste tank that opens when you deposit the waste and seals to prevent water or odor from leaking.
The side latches are a great addition to keep the waste tank and water tank attached whenever you're transporting the assembly. The integrated spider handle also adds to portability.
Pros
Massive 5.3-gallon waste capacity tank
Durable polyethylene construction
Integrated handles for portability
Sealed gate valve and bellows-type pump eliminating waste and odor leakage
Side latches to secure from top to bottom
Cons
Waste dumping may be messy
See Price on Amazon
---
7. Stansport Portable Camp Toilet – Best Budget Pick
Stansport Portable Toilet is an excellent pick if you're on a tight budget but wouldn't wish to miss out on fun outdoor adventures. It is an impressive sanitary option to get you started on your camping trip since it keeps your waste out of sight, thanks to its sturdy, heavy-duty plastic walls.
This design comes with a comfortable full-size seat that can hold up to 350 pounds of weight. It is a genuinely universal toilet with a built-in easy-to-hold spider handle that makes carrying a breeze.
It includes a disposable sanitary bag that keeps your waste carefully handled as you empty your waste tank. However, one might not be enough if you're planning to camp for more days.
But if you wish to get more waste bags, you can order from the nearest seller or visit the Stansport Store one more time.
Pros
Full-size seat with a lid
Heavy-duty construction
Disposable waste/sanitary bags minimizing costs
Inbuilt spider handle for portability
Cons
Small capacity requiring constant emptying
See Price on Amazon
---
8. Reliance Products Luggable Loo – Best for Emergency
Reliance Products Luggable Loo is a fantastic option for emergency purposes. These buckets are quite strong. Besides, they seal up airtight, ensuring no odor escapes the waste tank. They're relatively simple to use and lightweight to increase portability.
Reliance Products Luggable Loo consists of Double Doodie bags for waste collection. You will notice that several people prefer placing a regular plastic trash bag in the bucket and then fitting the doodie bag to protect the bucket from spills.
This is an incredible idea since it makes disposing of the doodie bag quite simple. The loo consists of a toilet seat, airtight lid, and a sturdy metal spider handle, enabling you to travel with it since the installation process is straightforward.
This isn't the most easy-to-use toilet, but for an emergency-purpose portable toilet, Reliance Products Luggable Loo serves its purpose. If you want a simple but functional compost toilet, you can save some money by going for this wonderful option.
Pros
Economically budget-friendly
Compact design facilitating hassle-free portability
Sturdy metallic handle easing movement
Seals up airtight to lock in odors
Cons
It may not be so sturdy
Quite difficult for first-timers to use
See Price on Amazon
---
Buying Guide. Choosing the Best Composting Toilet
There is a lot you need to know in order to find the best composting toilet. For instance; capacity, type of composting systems, weight, maintenance, dimension, safety, and electrical/non-electrical. Let's dive into the key features you need to pay more attention to while looking for your desired composting toilet.
Capacity
Capacity dictates how much toilet waste your compost toilet can hold without overflowing. It also determines how frequently you will be able to use your composting toilet and how many people will be able to sit on it at a given moment—small-capacity suits portable composting toilets to avoid baggage. But if you're buying for your residence, then you will need a larger tank capacity.
Type of a Composting Toilet
Self-contained toilets serve smaller groups of people than central composting units since they are best suited for larger groups. Equally important, self-contained toilets are cheaper and easier to set up as they do not require additional tanks.
Composting Toilets come in a variety of models. Regardless, there are two main types; portable toilets and central composting toilet systems. Other than these two, there are units that either have internal schemes or Urine-diverting systems. It may seem complicated, but this post has included this discussion to salvage you, so you're welcome.
a) Central Composting Toilets
Central composters are one of the best composting toilets you will find out there. They're mostly installed in homes, but any housing unit will serve the purpose. The composter is connected to a central unit. Any time you sit on the toilet, you are adding one pile on top of another. In doing so, a long-developing pile of recyclable goodies will be deposited.
You can decide to hook multiple central composting toilets to the same receptacles. It will still work. Internal composting systems can also be a urine-diverting split system, but you need to be sure to make your purchase.
b) Portable Composting Toilets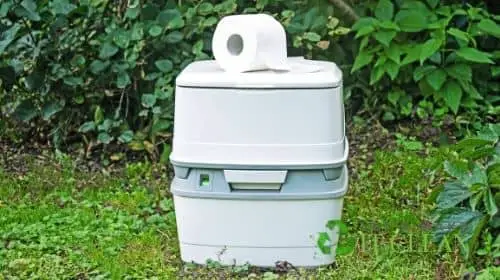 Portable composting toilets are "self-contained" composting toilets. They compost waste compartments and can be carried around. They don't have a huge difference when you compare them to their cousins' composters apart from their ability to be moved from one place to another more easily.
If you like camping, remote lake cabins, off-the-grid living, or any nature operations, a portable composting toilet will serve you right.
c) Urine Diverting Toilets
These head toilets come with holes on the front side of the toilet bowl. The holes have a role of diverting urine and collecting it in a separate container from the solid waste. The urine-diverting split system comes with a lever that you can use to close the solid waste hole if you intend to urinate.
The main benefit of the urine-diverting head toilets is cutting down the cost of maintenance. Remember, you need to balance the ratio of solid and liquid waste. Unlike internal system composting toilets where both solid and liquid waste travel in the same direction, this requires careful management. A urine-diverting composting toilet system is a solution to prevent unnecessary liquids from joining the solids compartment.
Note: too much urine transforms your compost toilet into soggy sewage.
Maintenance
Maintenance varies depending on the frequency of use. If you're not using your compost toilet more frequently, then maintenance might be full-time. However, you will mostly clean the bowl lid for full-time use toilets, and you're good to go. Check on the system more often in case the liquid and solid waste tanks need to be emptied in your compost bin.
For those aiming to get electric designs, check the connections every other day to prevent failures that might arise from malfunctioning compost toilets.
Weight
Weight mostly affects portability. While you're looking for the best compost toilet, keep in mind that smaller capacity models are lighter, portable, and can be used almost anywhere.
Others are quite hefty, especially the large capacity units. This makes them less ideal for camping or small cabins and a tiny house. Large composting toilet systems are not easy to install either.
Dimensions
Consider the area you ideally wish to install a composting toilet. Remember, the unit needs a good ventilation system. Since some may need an additional tank system, ensure you go over the toilet capacity against the dimensions of your space before you make your purchase.
Electrical or Non-electrical
If you wish to speed up the decomposition process, an electrical system will keep the environment of composting fertilizer friendly. For those lacking electricity or in remote locations with no electrical hookups, then a non-electric compost toilet will serve you best.
Safety
A malfunctioning composting toilet might attract nasty pathogens and bacteria. Ensure you have your toilet checked and regularly maintained to ensure this doesn't happen, or else you're going to have a problem.
If you're using an electric system, have it checked every other day, especially if it is not frequently used. Otherwise, it could result in injury if not routinely maintained.
Price
Budget is one thing we never miss out on when planning for future purchases. Similarly, composting toilets need enough funds. Since they come with varied prices, you need to be careful of the amount you spend. If your pocket allows for premium units, then Nature's Head Self Contained Composting Toilet is the way to go.
Warranty
If you're loyal to maintaining your composting toilet, then you do not have any reason to think that it will malfunction quickly. However, it remains a good idea to always check for a product warranty, usually between 3 to a 5-year guarantee. You cannot always foresee what might happen to your composting toilet, especially if you use an electrical system.
---
FAQs
How Does a Composting Toilet Work?
Human waste transforms into compost through the process of evaporation and decomposition. Usually, waste that channels to the toilet consist of about 90% water. This water evaporates through the aid of the ventilation system, which also makes it odor-free. Once the water has evaporated, the bio drum containing solid waste transforms into compost through decomposition.
Some conditions need to be met for these biological processes to work. Make sure moisture, oxygen, heat, and organic matter are balanced correctly. The state is paramount for the bacteria present to change the waste into compost. It also ensures the end product is free from viruses and pathogens that will otherwise compromise your fertilizer's safety.
In Australia, you would have to go through a series of standards requirements, such as the standard AS1546.2, which governs the on-site wastewater management for you to set up a compost toilet. The standard tests plastic tank materials, rotationally molded tanks, and injection molding to ensure any composting toilet manufacturer checks whether their products meet the standard AS1546.2.
What Are the Benefits of Using Composting Toilets?
Composting toilets are easy to install. Therefore, they are mainly used in remote areas as well as non-permanent residences since you can install them anywhere.
They're relatively cheap to set up. Remember, you do not need to connect these toilets to a sewer system or a septic collector. As a result, their installation process is completely hassle-free and affordable.
Composting toilets save on water usage. Unlike other composting techniques, composting toilets don't need water for flushing. It looks like the standard toilet, but you do not need to tap any water source. So, if you're planning to save on water expenses, composting toilets will come in handy.
Save on space. Since Composting toilets don't need a water connection or a septic or sewer system, they're convenient for places with limited space. You can install them outside, and they will occupy the space they sit on.
Minimal maintenance. We've come across some models that would need you to mix the compost or add water. However, composting toilets only need installation while the rest will take care of themselves. It might be a bonus if you find an alternative option that eliminates urine.
The end product is soil enrichment since it operates like organic fertilizer. It adds calcium, phosphorus, potassium, and nitrogen to the soil, making it ready for farming. This eliminates the need for inorganic fertilizer.
Do Composting Toilets Attract Bugs?
Well, how you take care of the unit will dictate how it performs. A rapid moldering compost can attract fungus gnats. But if you keep its moisture level around 50% or slightly below, no fungus gnats will survive in your compost. Also, ensure your composting toilet system remains sealed any time you're not using it.
Does Composting Stop When You Remove the Final Result From the Toilet?
Composting is a process that never stops, even when you transfer the constituent to a new waste container or a compost by using a compostable bag will make the disposal process effortless compared to using a separate com. However, removing the waste from the compost toilet is not hard.
Do Composting Systems Smell?
Unless you hate the smell of soil, composting toilets are odorless. Most people ask this question, "how can a head composting toilet remain odorless?" Well, the aftermath of pooping can be a little stinky. But with the help of the vent fan, within a couple of minutes, all the smell is driven out. If you open the door, you can speed up the aeration.
Any head composting toilet needs full-time care. You need to monitor the fan's performance and check for faults every other time. Without an effective ventilation system, a foul odor would fill the house. The fan sucks funky air inside the tank and expels it through the ventilation pipe.
How Do I Dispose of My Compost?
Most people prefer using special-purpose compost bins. You can always purchase them from your nearest provider. Or, you can sign up for any local retrieval program, if any, to come to collect the compost.
If you're running out of options, you can bury your compost in areas that the local laws allow you to. But at least use it in your garden as well.
Is Sitting on the Composting Toilet a Must for Urine-diverting Toilets?
It is not a must. The main idea is to ensure your liquids pass through the holes to prevent the urine from mixing with solid waste. This might be quite tough for the gentlemen, especially if you urinate while standing. But if your sharp-shooting skills never disappoint, then standing while urinating won't bring any adverse effect.
Is Diarrhea an Issue With the Head Composting Toilet?
The moisture of diarrheas can easily mess with your compost, especially if it happens too often.
Final Thoughts
If you have a problem with space, composting toilets are the way to go. Also, they are odor-free. Besides, they are generally easy to maintain and store waste safely. Make your compost and use it in your garden, and the results will surprise you.
Do you always get a massive water bill? By selecting one of our best composting toilets, you won't believe how much you will save through economized water usage. Which model appeals the most to you? Share with us as you get it to enhance your convenience at home and during your trips.