This article contains affiliate links. If you make a purchase after clicking on a link I may earn a small commission at no extra cost to you.
Do you have limited time but still want to compost? Is your space inadequate for you to have a traditional composting system?
Maybe you live in a rented space and want a unit that you can move around effortlessly with.
Worm composters offer many advantages but do they all give you and your worms an easy time? No. That's why our thoroughly researched article is your best shot at an exciting vermicomposting process.
Our Choice
We have numerous top picks, but Urban Worm Bag outsmarts all worm composting bins available in the market. It has ample aeration, enhanced moisture control, is hassle-free to use, and features a sturdy construction.
Top 5 Worm Composters Comparison Chart
Image
Product
Best for
Brand
Prime
Buy

Top

Top

Top

Urban Worm Bag
Best Overall
Urban Worm

Prime

Eligible

Buy Now

Top

Top

Worm Factory 360
Best Stackable
The Squirm Firm

Prime

Eligible

Buy Now

Top

Top

VermiHut 5-Tray
Best Value
VermiTek

Prime

Buy Now

Top

Top

Hungry Bin Flow
High-End
Hungry Bin

Prime

Buy Now

Top

Top

Redmon Green Culture
Classic Bin
Redmon Since 1883

Prime

Buy Now
11 Best Worm Composter Reviews
Let's see what these superior selections offer you.
1. Urban Worm Bag – Best Overall
Coming from a sturdy 900D Oxford fabric, Urban Worm Bag ensures longevity. The worm bag supports an impressive 120 pounds of compost; hence it's perfect for massive composting. Also, this fabric is breathable to promote ample air supply for the well-being of your worms.
The sturdy top zipper and the broad feed trough ease things up when adding kitchen scraps to your worm composter's surface.
Notably, this home composter features a bottom zipper that allows for moisture control of your compost.
This enhances the air supply ensuring worms receive the best conditions for faster breeding and a swift composting process. Besides, less moisture ensures that there is less odor production.
The worm bag has a bottom outlet that allows you to collect mature worm compost without disturbing your worms.
Pros
Wide feed trough to ease material addition
A bottom outlet for hassle-free collection of castings
Breathable 900D fabric for optimal air supply
Bottom zipper for moisture control
Stress-free to assemble in five minutes
Cons
See Price on Amazon
---
2. Worm Factory 360 – Best Stackable
With its 4-tray size, Worm Factory 360 offers you ample storage for your waste. Not to mention, it accommodates four more expansion trays, thus perfect for large capacity composting.
Worm Factory 360 has a reinvented lid that works as a tray stand. For this reason, the bin ensures that harvesting your worm castings is a hassle-free experience.
Worm Factory 360 comes with a spigot and collector tray. These ease things while collecting your mature compost. You won't disturb your worms as they move upwards once they finish feeding on lower layers.
Worm Factory 360 worm composter comes with a feeding guide that you can stick on it. This way, you'll ensure everyone in your home provides optimal conditions to the worms. Consequently, you'll have healthy worms that'll provide you with an effective composting process.
Pros
4-tray size expandable to eight trays for lots of substances
The lid functions as a tray stand to ease harvesting
Included food guide to ease composting
A spigot and collector tray for stress-free harvesting
Cons
See Price on Amazon
---
3. VermiHut 5-Tray – Best Value (Budget Pick)
VermiHut 5-Tray worm composter is another excellent unit for extensive composting.
It can accommodate 10 to five pounds of worms. These eat about five to 2.5 pounds of food a day. Therefore, you'll have a fast composting process and get nutrient-rich castings in a short while.
The worm composter features a dome-shaped lid with numerous vents. These promote adequate aeration for the wellbeing of your worms. Additionally, it facilitates moisture regulation for optimal composting conditions.
Together with the fast-eating nature of the worms, sufficient airflow prevents odor formation. Thus, the VermiHut 5-Tray is an excellent unit for both indoor and outdoor composting.
VermiHut 5-Tray bin has a worm saver tray to protect worms from falling into the reservoir tray. This ensures your worms have comfort while staying in your compost for swift waste conversion.
Pros
5-tray design for lots of materials
Ample aeration system for optimal worm conditions
Counters odor production for comfort
Worm-saver tray to prevent worms from dropping to the reservoir tray
Cons
Lacks protection against fruit flies
See Price on Amazon
---
4. Hungry Bin Composter – High End
With its lid at a handy height, Hungry bin provides stress-free filling experiences. It boasts of a patented flow-through mechanism that provides high-quality compost without supervising it hence saving time.
Secondly, it has a broad surface area and expansive depth to accommodate many worms. This allows it to process an average of 4.4 pounds per day; thus, an excellent choice for swift worm composting.
The home composter comes with two sturdy wheels that ensure you don't strain to move it around even when full.
The bin features an inverted cone shape with a bottom tray and a reliable filter. Given this, it allows you to effortlessly harvest nutrient-dense worm compost and worm tea without upsetting your worms. Since it has no drain tap, you won't experience system clogging, forcing you to empty it.
Pros
Flow-through technology for supervision-free composting
Wheels for hassle-free movement
Large capacity to accommodate plenty of waste
Bottom tray and filter for effortless harvesting
Handy height to easy refilling
Cons
Ventilation may be an issue
See Price on Amazon
---
5. Redmon Green Culture – Classic Bin
Are you looking for an affordable and effective worm composter? Redmon at a very affordable price is an excellent option.
Redmon Green Culture features four access doors at the bottom, with each measuring 13 by eight inches. Resultantly, it allows you to retrieve finished worm compost without straining. The top Snap-on lid provides hassle-free addition of waste products.
Moreover, the worm bin comes with numerous vents on its sides. These promote adequate aeration ideal for the wellbeing of your worms. Also, it ensures proper moisture control to lower foul odor incidences.
The bin features heavy-duty construction to ensure a long-lasting operation. Plus, it has UV protection that makes it an excellent unit for all-year-round worm composting.
Lastly, the worm composter's setup is a cinch, and you don't need tools to do so.
Pros
Numerous vents facilitating adequate aeration
UV-protection for all-weather operation
Many doors for hassle-free compost retrieval
Effortless to assemble
Very affordable price
Cons
See Price on Amazon
---
6. Worm Factory Farm 4-Tray – Best Worm Bin For Apartment
Who said you can't have nutrient-dense castings for your potted plants in a condo or apartment? The affordable 4-tray worm factory features a 9″ by 12″ by 8.5″ size, thus excellent to put under your kitchen sink.
Being lightweight, this worm composter eases your time when harvesting castings. Its sturdy drain valve eases your time while accessing worm tea.
Since the bin features four trays, it allows you to enjoy humus-dense compost without turning its contents. The worms effectively convert your kitchen waste materials as they move up. So, it offers worm-free castings.
The composter bin has ample aeration ideal for worm survival. Simultaneously, this aids in moisture control that ensures odor-free conditions making it an excellent indoor and outdoor unit.
Pros
Budget-friendly price
Compact size for use in small indoor spaces
Light for portability
Drain tap to ease worm tea collection
Ample ventilation for odor-free operation
Cons
Not ideal for extensive composting
See Price on Amazon
---
7. Hot Frog Living Composter – Very Durable
Whether you want an indoor unit or one for your back porch, the Hot Frog bin offers an excellent solution. It features sturdy wood legs that raise it off the ground to deter moisture and vermin from entering it.
The sturdy lid secures your compost and prevents rain entry if used outdoors. This ensures optimal moisture conditions for fast decomposition. Also, the unit features BPA-free, UV-protected materials. This ensures it's long-lasting and perfect for use in any weather.
The several aeration points help promote ample circulation for moisture control, your worms' wellbeing, and odor reduction. Besides, the bin features water-retention channels that ensure the walls don't dry for uniform composting.
Lastly, Hot Frog Living Composter has 40 migration channels between each layer. These give your worms numerous opportunities to move to upper regions for supervision-free composting.
Pros
Raised base ideal for outdoor use
Water retention channels for moisture control
Numerous migration channels for effective composting
Aeration points for optimal indoor composting conditions
UV- inhibited, BPA-free sturdy materials
Cons
See Price on Amazon
---
8. Worm Cafe – Stylish Worm Farm
Do you have a worm composter that has an ant issue? End your search with Worm Cafe with an anti-ant prevention technology to protect your composting worms and leftovers from attacks.
The bin features three large-sized trays to offer fast composting of a lot of kitchen waste and potting soil. These trays have side ventilation that promotes adequate airflow to minimize odor production. This makes it an excellent choice for indoor use. Plus, there is better moisture control with adequate aeration, and your worms won't escape from the composter.
The composter has a fly-proof hinged lid featuring engraved instructions manual on its underside. This ensures adequate protection for your compost during rainy conditions while offering you tips for effective composting.
What's more, the bin comes with a drip-free drain tap to ease worm tea collection without leaving messes.
Pros
Large capacity trays to accommodate plenty of waste
Manual engraved on the lid's underside for effortless operations
Drain tap for worm tea collection
Fly-proof, hinged lid for adequate weather protection
Sturdy legs with anti-ant construction
Cons
Not ideal for a money-limited budget
See Price on Amazon
---
9. Biovessel Eco Living Composter – Eco Composter
Are you looking for something to decorate your kitchen counter or one that fits in a utility closet? Why not get Biovessel that provides you with nutrient-rich compost while offering aesthetic appeal?
The composter features a compact size that accommodates seven liters of bedding material. It supports 500-600 grams of worms, ensuring a speedy composting process.
Furthermore, the worm bin features an ample aeration system that ensures your worms have optimal breeding and functioning conditions. Plus, this minimizes odor production for pleasant kitchen conditions.
The bottom cap eases the removal of ready compost without leaving messes around. Using the worm composter is effortless. All you need to do is add your food waste and check pH and moisture levels. Not to mention, the broad feed top makes adding your food scraps a breeze.
Pros
Compact size for use on kitchen counters
Hassle-free to control composting conditions
Ample aeration for odor-free composting
Aesthetic design
Cons
See Price on Amazon
---
10. Homestead Essentials Worm Composting Kit – Multi-Layer Design
The multi-layer Homestead Essentials kit provides ample room for a lot of yard waste and worm bedding. Given its design, it allows proper drainage for the right composting conditions.
The kit features a sturdy lid that protects your compost from dripping water. It has an ergonomic handle to ease the addition of food waste.
The numerous vents on the sides of the lid help you achieve proper air circulation. Thus, they control moisture levels, which lowers odor production for comfortable indoor use. Adequate oxygen supply also ensures your worms won't escape.
The worm bin has a raised bottom that ensures your compost is safe from rodent attacks.
Notably, the Homestead Essentials bin comes with a sturdy, non-drip spigot. Because of this, it allows you to collect leachate effortlessly.
Pros
Numerous trays for orderly composting
Spigot to ease the collection of leachate
Adequate aeration and drainage for optimal conditions
Raised base to protect against rodents
Cons
The ventilation holes may present a fly problem
See Price on Amazon
---
11. Maze Worm Farm Composter – Stylish & Sturdy
Here is an ideal USA-made worm composter for small families and urban dwellers. Maze Composter features a compact size; thus, it takes minimal storage space.
The worm bin has two rotatable working trays with an open base drain. As a result, it ensures there is ample air-flow control within the vermicompost for odor-free conditions. Plus, your worms won't escape due to inadequate oxygen supply.
The base drain deters the accumulation of worm tea within your compost. Thus, it provides ideal conditions for your worms while offering a nutrient-dense liquid. A 2L worm tea collector tray at the composter's base ensures your worm tea doesn't go to waste.
Additionally, the vermicomposter features a worm saver tray to prevent your worms from falling to the bottom. Plus, it's effortless to pull out, making the collection of castings a cinch.
The broad top and low profile help you while filling; even your children can do it.
Pros
Compact size ideal for small indoor areas
A base drain to prevent worm tea accumulation
Adequate aeration for fast, odor-free composting
Worm saver tray to prevents worms from falling
Worm tea collector for optimal compost conditions
Cons
Not ideal for large families
See Price on Amazon
---
Buying Guide: What is the Best Worm, Composting Bin?
Worm composters have a variety of sizes, shapes, and colors. So, it's best to know the features to look for before landing on any eye-catchy products.
Design
There are four main design subcategories:
Continuous Flow-through Composters
This type of worm bin functions by banking on the fact that worms feed in an upward motion. Thus, they help lower the maintenance practices required between harvesting sessions.
Worms tend to eat waste closer to the surface while excreting their castings deeper in the ground. Continuous flow-through models employ this mechanism by facilitating waste addition at the surface and having a bottom opening for harvesting mature castings.
This enhances the efficiency of your worms since they don't have to look throughout your bin for food. Instead, they facilitate swift composting as garden-like conditions allow them to maintain their usual behaviors.
Tray System Worm Composter
A tray system is arguably the most comfortable worm composting method, thus perfect for a newcomer.
The setup for trays is a breeze. Fill a tray with your preferred bedding, add in organic kitchen scraps until the contents near the top. Upon filling the tray, load up the second one with bedding, then place it above the previous tray.
After your worms finish the food in the bottom tray, they'll naturally migrate upwards to the top trays, leaving behind trays with nutrient-rich castings.
Hanging Worm Bin Composters
Hanging worm bins function like continuous flow-through composters. The only difference is they use a bag, unlike the standard continuous flow design.
Food waste goes at the top, while the bottom opening allows the collection of worm castings.
Hanging bins are ideal for indoor use as you can hang them on a support with a collection bin beneath. Some composters can hang on a door making an excellent worm farm for a small space.
Outdoor Worm Compost Bin
These have several varieties. There two main subcategories:
Above-ground bins are large or flow-through models. Temperature control is via insulation and depends on the heat produced during worm composting to keep your worms warm.
Below-ground bins are less prone to temperature changes and provide similar conditions found in natural worm habitats.
Although not as popular as before, some people dig windrows/vermitrenches, extensive trench systems in a garden, for vermicomposting. These trenches function similarly to other vermicomposting units. They accommodate bedding material with the continuous addition of food scraps on top of the pile.
Size
Your worm bin's footprint is a crucial consideration. Composters have varying sizes, and the position you want to place your unit affect the bin options you'll go for. Almost any size is ideal for an outdoor setting, basement, or garage but compost bins of around 15″ by 15″ are suitable for indoor vermicomposting.
Construction Quality
If you'll keep your worm bin outdoors, it's vital to get a long-lasting model. Go for worm composters with UV resistance to prevent plastic from brittleness. If your composter has wood parts, ensure they have a weather-proof coating.
Indoor vs. Outdoor
Some composters have a rugged look suitable to withstand outdoor use. Others, however, have a more pleasing appearance hence excellent for indoor use.
The location of your bin's vents also affects where to use it. Rain tends to penetrate large vents, which results in a moisture issue that makes outdoor use difficult. Indoor composters need optimal aeration to prevent foul odor.
Collecting Worm Tea/Leachate
The most nutritious fertilizer you'll get from your compost is worm tea. Some composters have a tap that eases leachate collection. Others feature drainage holes and a collection tray.
Expandable
First-timers to vermiculture may find estimating the number of materials they'll add and the amount of casting produced challenging to do. Several worm bins permit the addition of expansion sets. Should your space run out before you are ready to collect the first casting, such units allow expansion.
---
FAQs
Which Is Better, Compost Bin or Worm Farm?
Both a compost bin and a worm farm have numerous advantages to the environment. The best between them depends on your needs and which features you are after. Below is a look at both systems to ease your decision.
a) Composting Bin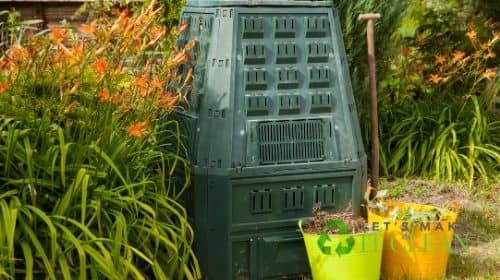 A compost bin relies on the natural decomposition process. Upon decomposition, materials in your compost bin turn to humus, a vital ingredient for sustainable gardening.
In a composting bin, we place many layers of materials that break down to form nutrient-dense soil. The major decomposition drivers in composting bins include microorganisms, water, and air.
One thing about a compost bin is that setting up is hassle-free. Moreover, you can place your compost bin directly in the garden to get maximum benefits.
Advantages of using a compost bin include:
They minimize food wastage.
Provide a free gardening resource.
Increases your garden soil levels.
The composting materials are readily available.
The setting up process is hassle-free.
You can have plants growing in your compost.
You save money from additional purchases like worms.
You don't need to be too cautious about composting conditions, as is the case with vermicomposting operations.
If you have a sizeable food scrap heap, you don't need to worry about periodic addition like adding worm food in vermiculture.
It allows the decomposition of some foods that aren't great for worms. For instance, you can place citrus, onions, eggshells, and oily foods without worry.
b) Worm Farms/Vermiculture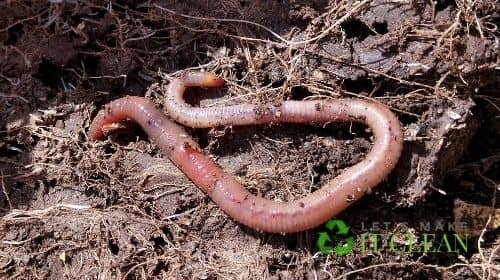 Vermiculture involves placing composting worms in confined spaces, adding food remains and other materials that worms thrive on.
Worms are sensitive to high acidity levels, so it's best to avoid adding citrus, onion, and other similar foods to your worm farm. Adding small quantities of these accidentally is alright, but they will drive your worms out of the enclosure in large amounts.
Some of the best components to add to your vermicomposting bin include:
fruit and vegetable matter
teabags
tissues
shredded papers like cardboard
rotted horse manure
leaves
Worms produce highly nutritious worm castings and worm tea, an enriched brown liquid excellent for soil enhancing and plant fertilizer.
A worm farm may be a bin, old bathtubs, or a bucket without a base.
The advantages of vermiculture are:
They provide nutrient-rich worm castings that are also excellent enhancers of the soil environment, promoting neutralization of soil acidity and alkalinity.
They provide worm tea, which is one of the best natural fertilizers.
Worms ensure high compost efficiency. Since they move within the system, you won't turn your compost, saving your time and energy.
Fertilizer from a worm bin has more nutrients than that from the usual composting process. Thus, you'll have healthier plants.
Since you have to place food in a sequence, you won't overfill your bin. This results in better decomposition and enhanced aeration, minimizing odor product.
Worm farms allow for a continuous composting process, unlike the other composting method where you have to stop adding materials after a while.
You can sell excess worms to anglers and other gardeners and earn income while getting high-quality fertilizer.
A worm composting bin allows you to attain the ideal temperature range as it's portable, unlike a compost pile.
Should I Put Worms in My Composter?
Vermicomposting is an excellent venture to consider. With a worm colony in your composter, you'll have faster decomposition. Hence you can compost more products within the same amount of time than when relying on the typical composting process.
Besides, you now know the many advantages a worm farm can offer you. Having worms in your composter is better than when relying on bacteria and fungi action.
However, you ought to have certain conditions in your worm composter for optimal operation:
Your composter should have an adequate oxygen supply.
Keep your bedding moist but avoid excess water. Have a proper balance between nitrogen and carbon. Most of your food scraps are green materials; hence add things like shredded cardboard and dry leaves, and grass clippings.
You should feed your worms the right foods. Avoid oils, meat, dairy, salty, and acidic materials.
What Is the Best Composter?
The Urban Worm Company impresses us with its Urban Worm Bag invention, unlike everything on the market. It has a breathable fabric for optimal moisture and oxygen conditions. The sturdy frame secures it off the ground to ease casting collection and prevent pests from invading your bin.
How Does Vermicomposting Work?
Numerous organic residues are excellent for feeding your worms to produce castings. Worms consume these wastes and lower your compost's volume by 40 to 60 percent.
Each worm eats about half to an equivalent of its body weight. It then produces casting s which is half of what it consumes. Castings have a neutral pH and have a moisture range of about 1/3 to 2/3 of the mass.
Then the amount of nutrients in castings depends on the food source for your worms. The worm species you use also affect the quality of the castings in part. Red worms/wigglers and nightcrawlers are a popular choice because of their high-quality droppings.
Conclusion
Vermicomposting is an excellent way to get rid of your leftovers. It promotes a better world free of methane pollution, which is a common occurrence in a landfill.
With one of our top vermicomposting bins, you'll have a hassle-free time maintaining it, harvesting your castings, and feeding in everything organic.