There's nothing like a clean, green, and beautiful backyard garden.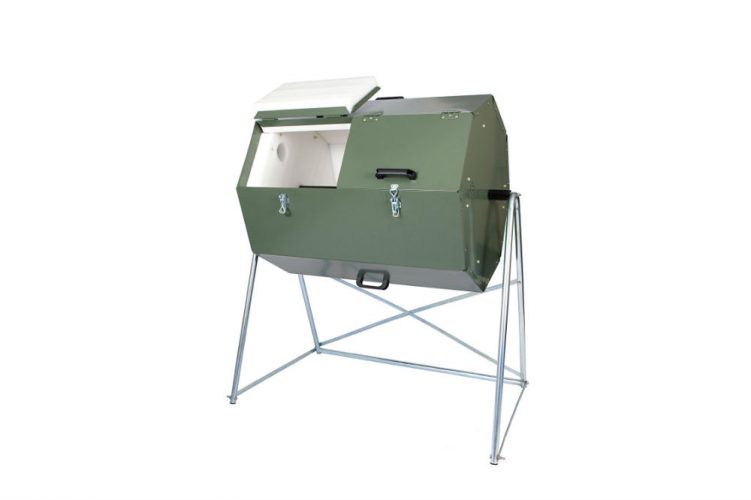 Nothing beats fresh fertilizer that will nurture and help your plants grow. But buying from the market will cost you in the long run, so why not make your own fertilizer?
Meet composting. Composting is the process of speeding up the decomposition process to create a richer and better soil composition. In short, compost is a natural fertilizer.
See Price on Amazon
Compost can be created from any organic material but is usually made from table scraps, feces, fruit peels, and biodegradable trash.
There are numerous advantages to composting, but the most important advantage would be the prevention of soil erosion since composting basically creates a richer and fertile soil for plants to live in.
Another advantage of composting is that it can reduce toxins and pollution in our environment by limiting the amount of trash we have, and by speeding up the decomposition process to turn that trash into usable soil.
Composting isn't simply a way to recycle biodegradable trash, it is a step towards a cleaner and greener earth.
But to start composting, you're going to need a composter. Lucky for you, we have a composter we highly recommend you take a look at, the Joraform JK 270.
Designed to simplify and speed up the process of making compost, the Joraform JK 270 composter features a "continuous-use" dual chamber. It allows you to add more compost in one chamber, while the other chamber cooks and matures into usable compost.
The Joraform JK 270 also features insulated chambers to hasten the composting process.  Expect to have a batch of ready-to-use compost in just 4 weeks!
The Joraform JK 270 can easily convert kitchen scraps into usable compost. It accepts fruit peels, meat, bones, and anything biodegradable.
It can hold 60 gallons of compost, is odorless, and is rodent-proof. The Joraform JK 270 is a gardener's dream made possible.
Features of the Joraform Compost Tumbler JK 270
The composter contains a "Continuous-use" dual chamber which will ensure that you have a steady supply of compost.
The composter can hold a maximum of 60 gallons of compost.
The composter contains side vents to allow air to flow into the chamber, which will speed up the composting process.
The composter is very durable, rust-proof, and made of galvanized steel.
The composter is tightly sealed and pest resistant.
The composter is rodent-proof.
The composter has insulated chambers made of polyethylene, non-toxic
The composter has dimensions of 44 x 28 x 52 inches.
The composter has a weight of 52 pounds.
The composter provides a 1-year warranty and a 100% Satisfaction Guarantee. They will refund, replace, and repair if they need to.
The composter is designed to reduce the smell of odor.
The composter is easy to use and easy to rotate.
Pros
Its dual chambers allow you to create a steady batch of compost.
Its insulated chambers protect it from cold and preserve It will make sure you can make compost, even when it's winter.
Built and designed like a tank, so you know it won't bend or break when push comes to shove.
Its galvanized steel exterior protects it from rodents and large animals.
1-year warranty and it provides a 100% satisfaction guarantee to its customers.
The composter can practically use anything biodegradable. Fruits, vegetables, meat, paper, and even bones are viable ingredients for composting.
The chambers can reach a temperature of 180 degrees Fahrenheit to speed up and protect the compost from roaches and other pests.
Hard to set up, but when it's running it will be producing quality compost for years. It is durable and was designed to last for a very long time.
The chambers are made of polyethylene, which is durable and non-toxic plastic. So, rest assured that you and your family won't be poisoned.
Comes with an easy to understand instruction manual. The company also provides videos online on how to properly operate the composter if the manual isn't helping you.
Cons
Very heavy.
Difficult assembly. It will take hours just to set up the composter. Additionally, parts like screws and bolts might get lost while assembling.
Very difficult to spin because of the size.
Very expensive.
See Price on Amazon
Verdict
Two words, "Dual Chambers". With its dual chambers, the Joraform JK 270 will provide you with batch after batch of composts. It is very durable and made from galvanized steel and high-quality plastics.
The Jora Composter Tumbler JK270 has everything you need in a composter. But watch out because this composter is very heavy and it is very hard to assemble on your own.
We give this composter a rating of 4.5 out of 5 stars. It would have been a 5-star rating if the assembly process was easy and simple. So, if you don't mind spending hours upon hours putting this masterpiece of a composter together, then you should get the Joraform JK 270.