If you have a large household and you just can't stand churning out a large amount of waste on a daily basis, you might find a composter a suitable addition to your backyard.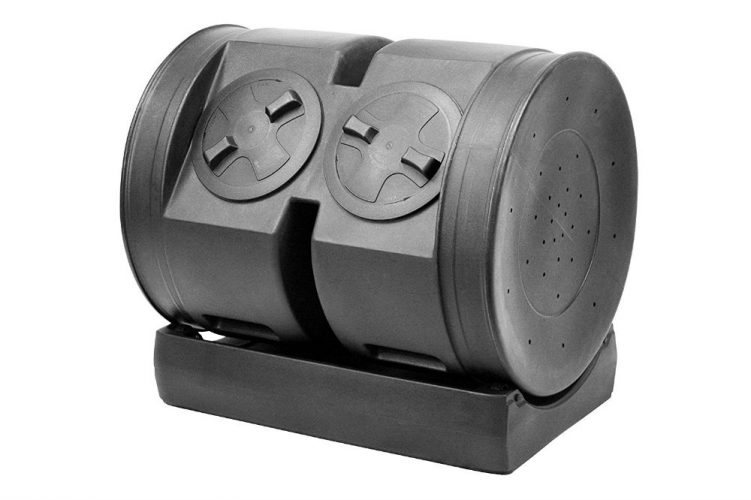 This equipment can turn your kitchen and other homes refuse into "black gold" which can then serve as top-notch plant food for your plants.
Check Price on Amazon
But as composts can mean a lot of hard work for some people, you might want to know that compost tumblers are designed to make the task simpler.
The Good Ideas CW-2X12 Senior Wizard Dual Tumbler Compost Bin, for example, is specially designed to make turning your heap easier and more hygienic with its contained design.
This alone already makes it a good option for those who don't want to spend hours raking and shoveling waste in their backyard.
With a barrel and base design, the Good Ideas Senior Wizard offers a fuss-free composting method. How? For one, its base doubles as a compost tea catcher.
When the barrel leaks out the liquids released by its decomposing ingredients, this composting tea doesn't have to go to waste or make a mess by spilling all over the place. The base has a series of holes at its lowest point which effectively collects the fluid.
The dual-chamber method is also a very notable feature of this product that's worth closer consideration. Lots of homes, especially the bigger ones, can easily collect waste for batch pile composting. They can then go ahead and start composting as soon as their composter gets in.
However, households will still continue to create biodegradable waste. Even with the composter full of greens and browns, you won't really get to stop consuming food.
As composting can take a while to finish, you might need other equipment to collect the new batch of kitchen refuse you're making. A second compost chamber will come in handy for such instances as it will also allow you to add waste as you go while the other batch is making mulch.
Like other composters, it should also be noted that the Senior Wizard Dual Tumbler is also made of recycled materials. This is an important point to note as it can be a deciding factor for lots of people.
Those interested in composting will want to reduce the waste they're making and the best time to get started will be when they get their composter.
Opting for a recycled unit is just eco-friendlier and will already give you a taste of what it's like to do something to make less waste.
The only major gripe a good amount of people have about this product is the size of its opening. While it is pretty spacious, it's not big enough to fit a standard shovel.
This means that you'll need a piece of smaller equipment to take out the mulch you made with this unit. Doing that can be a bit of a hassle and is quite gross, honestly. If you don't mind, though, this can really be an excellent choice for big households.
Features of the Good Ideas CW-2X12 Senior Wizard Dual Tumbler Compost Bin
2 Compost Chambers
50-Gallon Capacity
Recycled Polyethylene
BPA-Free, Food-Safe, FDA-Approved Material
Large Twist-Off Lids
Huge Grab Bars
Side Hole Vents
Tea Collecting Base with Wheels
Hose-Compatible Tea Outlet
Pros
Large capacity
Ready to use right out of the box
Manufactured in the USA
Extremely durable and sturdy
Dual-chamber design allows continuous composting
Secure lid
Great ventilation
Base can collect compost tea with ease
Comes with a trilingual instruction manual
Very easy to turn
Easy to move around the yard
Black coloring helps absorb more heat from the sun
Cons
Hard to turn when filled with compost like many other tumblers in the market today
The huge size will take up space in many backyards
The opening is not big enough to fit a shovel
Check Price on Amazon
Who Is It Best For?
Larger households will naturally produce more waste than others, so a bigger compost tumbler will prove to be more useful than others.
If your home has members that create lots of green and brown waste, the Good Ideas CW-2X12 Senior Wizard Dual Tumbler might just be the perfect pick for you.
Its massive size alone will prove to be useful while its dual-chamber design will surely let you do more with your composter.
Due to its size, though, you might want to consider the spot where you intend to put it. It can take up a good amount of space, so it might work best for those with more sizable yards.
Verdict: Should I Buy It?
More kitchen waste means more ingredients for composting. If you think you can fill up a 5.5 cubic feet chamber regularly with green and brown components, then the Good Ideas Senior Wizard Dual Tumbler Compost Bin can be the best pick for you.
It's very easy to use, highly durable, and highly efficient, so it can definitely be a suitable choice for many households.