We live in a world where mountains of trash are being piled up over one another.  And you contribute to this mountain every day.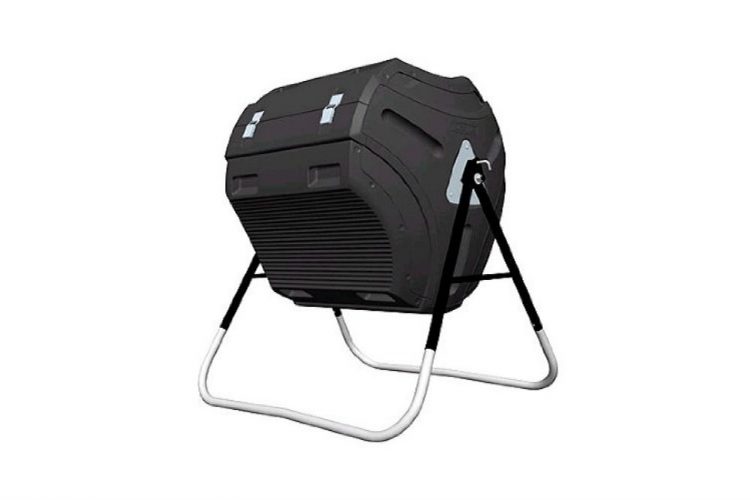 Every time you throw your trash out, you are adding a layer to that mountain.
However, there is a way to minimize this. There is a way of minimizing that mountain of trash and saving our planet. That way is called composting.
See Price on Amazon
Composting is the process of creating rich, lush, and livable soil. Compost can be made by using biodegradable waste such as leftovers, scraps, bones, meat, and fish.
If you're the type that wants to make the world a better place, then why not start by making compost?
To start composting, you'll need a composter. One of the best composters on the market right now is the Lifetime 60058 Compost Tumbler.
Just as its name implies, the Lifetime 60058 Compost Tumbler was made to last a lifetime. It is made of high-quality plastics that are non-toxic and contains a galvanized steel frame that is rust-resistant.
Aside from its durability, the Lifetime 60058 Compost Tumbler has a capacity of 80 gallons. That's right, 80 gallons of compost! 80 gallons of lifesaving material can be made in a matter of weeks. It also has tons of other interesting features listed below.
Features of the Lifetime 60058 Compost Tumbler, Black, 80-Gallon
The composter is made of high-density plastics (polyethylene).
The composter has a galvanized steel frame. In addition, the steel frame is powder-coated, which prevents rusting and makes the steel frame more durable.
The composter has a capacity of 80 gallons or 10.72 cubic feet.
The composter has dimensions of 38.5 x 36 x 44 inches.
The composter has a weight of 42.1 pounds.
The composter can be shipped anywhere domestically, and can also be shipped internationally to some countries.
The composter has black, double-walled panels, which absorb and retains heat to speed up the composting process.
The composter can produce compost within 3 to 4 weeks.
The composter's steel frame has a 'lock to secure' feature. It will help the composter stay in place.
The composter can be turned easily on its axis.
The composter contains an internal mixing system with multiple vents. The vents enhance mixing by allowing air to come in and out of the composter.
The composter is PVC (Polyvinyl chloride) and BPA (Bisphenol A) free.
The composter comes with an updated online manual on how to operate and assemble the composter.
Pros
The composter is PVC free. PVC is known to be the most toxic plastic, so be happy you're not getting poisoned. It is also BPA free, which is another toxic plastic.
Many of the composter's parts are replaceable and are sold by the company at a reasonable price. If the parts break down, know that you are covered.
The polyethylene that the composter is made of is actually UV protected, which means the sun won't spoil or alter the contents of your compost.
The composter's opening is very large (36 x 36 inches to be exact) and you can use a shovel to dig the compost out, or you can simply tip the composter over, since it can easily be turned.
The composter is tightly sealed and made from high-density materials so no rodents can enter, and get your compost.
80 gallons of compost is quite the number! This is really great if you want to make one big pile of compost.
The composter is very stable. You might be surprised because of its size but the galvanized steel frame is very sturdy and will hold the composter in place.
Cons
The assembly of the composter is a two-person job. In some cases, you might need to drill through the panels, the metal stands, and the latches to ensure your composter will function.
The composter's metal stands are not weatherproof and will rust after a few years.
Small bugs and flies might find a way inside your composter by using the air vents.
The composter is not "odor-proofed". Place it away from your neighbors, preferably at a distance 5 to 10 feet away.
It doesn't have a spigot and it drops excess liquid from its bottom. Place this composter in an area where you don't mind smelling like raw sewage.
See Price on Amazon
Verdict
We give the Lifetime 60058 Compost Tumbler a rating of 4 out of 5 stars.  It is a very durable composter with tons of features.  It does have problems though. Problems like the difficult and time-consuming assembly process, and the fact that it isn't odor-proof.
If you have neighbors that live close by, then we don't recommend this composter. If you aren't technically inclined,  we also don't recommend this composter.
Even with all of its setbacks, this composter can make a huge batch of quality compost. 80 gallons of compost to be exact. So, if you want to make piles upon piles of compost, then we highly recommend the Lifetime 60028 65-Gallon Compost Tumbler.