Any serious garden enthusiast will find themselves thinking of making their own compost at some point.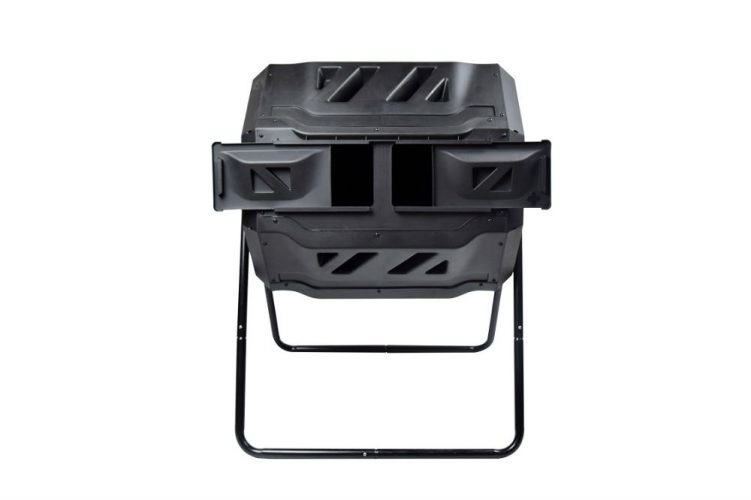 But since compost bins are not the most attractive things to have in your backyard, an alternative like a compost tumbler might just do the trick.

These off-the-ground composters are becoming worthy competitors to the tried and tested compost bin because of their ease of use and management.
So if you're daunted by the fact that you need to turn a compost pile every now and then, you might just want to check out the Smarssen Rotary Garden Tumbler Composter.
Check Price on Amazon
This product is a compost tumbler that comes with a plastic body and a metal frame that keeps the compost off the ground. This design allows the container to be turned on an axis so the contents can be properly turned as well.
It also has a utilitarian feel in its black coloring and overall container design, so it shouldn't feel too out of place in a backyard with lots of gardening tools and equipment around.
One of the things a lot of people like best about this product is the fact that it's made of recycled plastic. While they only use 50% recycled material for these composters, that's still a huge leap in waste management.
Most people prefer recycled materials when they're also out to recycle their own refuse, so this material choice is a nice touch. It can be a good sign that the manufacturer is truly committed to helping minimize waste.
Because compost tumblers are made to make composting easier, you might be glad to know that the Rotary Garden Tumbler actually delivers in this regard. Despite not having any handles, it's very easy to turn.
It turns on an axis so all you need to do to get it moving is to give it a slight push downwards. That will be enough to give your heap a nice turn for better aeration.
In terms of construction, the Smarssen Rotary Garden Tumbler Composter is pretty solid. It contains your compost tightly.
It only has adjustable vents, so it's up to you when to open them to air your compost. This also guarantees that rodents, insects, and other animals won't get into your waste preventing any serious problems later on.
It's also equipped with two compost chambers so you can compost in two different ways in one unit. You can use one for batch pile composting and the other for slow composting.
It can ensure that you'll continuously churn out plant food. It can also free your home from adding kitchen refuse to the waste you'll send to landfills.
However, there are also a few things about this product that you might want to mull over. One is the fact that it requires a good deal of assembly. You need to screw and bolt parts of this composter together and it can take a while.
There's also the fact that its sliding doors are quite tight. They require a bit of an effort to slide open. While it can mean a bit of struggling when trying to open the unit single-handedly, it can also guarantee an airtight container for your compost.
Like other compost tumblers, this product also costs a pretty penny. It can be well worth the investment, though. It can save you from spending money on fertilizers again. It will also free you from the need to turn a compost pile with a rake or pitchfork.
Features of the Smarssen Rotary Garden Tumbler Composter
Two Compost Chambers
Two Sliding Doors
Made of 50% Recycled Plastic
Adjustable Ventilation
18 Gauge Tubular Steel Frame
160L Total Capacity
Pros
Sizable capacity
Turns easily even without a handle
Uses BPA-free plastic
Uses recycled plastic
Two separate chambers will allow you to compost in various ways
Very secure design that won't let pests get in
Can produce compost in just two weeks under ideal conditions
Very sturdy construction
Nicely seals in waste
Cons
The opening is a bit too small for an efficient dumping
A challenge to assemble
Check Price on Amazon
Who Is It Best For?
Due to its design and construction, the Smarssen Rotary Garden Tumbler Composter might suit gardeners who want to make the most out of the refuse around their home.
The two-chamber design will let you make compost continuously by batch piling waste in one container and slow composting by adding as you go to the other.
You'll always have a fresh new batch of compost with the help of this product.
Verdict: Should I Buy It?
With a good number of options available, should you opt for a Smarssen Rotary Garden Tumbler Composter? With its good reviews and a solid set of features, this product can be a great pick for a lot of homes.
While it does have a few shortcomings that might make some folks think twice, they're not entirely major deal-breakers. Its solid construction, good capacity, and ease of use are definitely good enough reasons for this product to be worth your while.