Composting is a great way to save and preserve the environment. It prevents erosion, reduces pollution, and reduces toxins by promoting and creating healthy natural soil.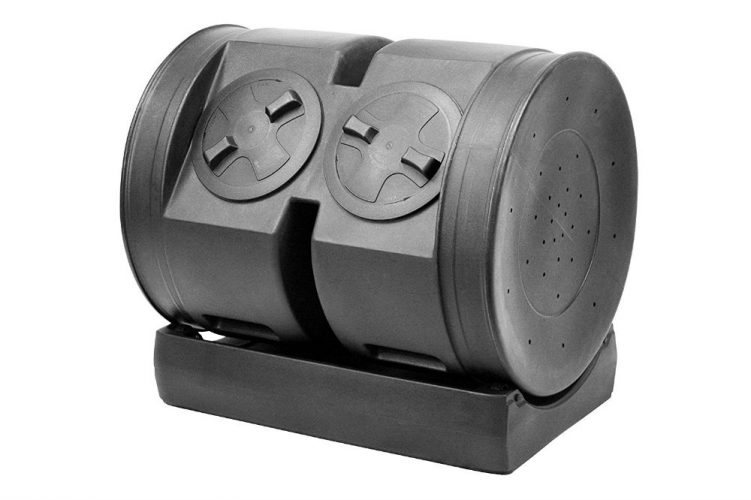 Aside from the environmental benefits, composting can help you save money by recycling organic wastes. It will also benefit you in the long run, since composting will create a better and healthier environment for you and your kids (see our article about composting with children).
See Price on Amazon
Composting is also a great way of recycling all those leftovers from the kitchen and adding them to your own garden.  If you want a way to recycle your biodegradable wastes and save the planet at the same time, then you better try composting.
If you have a garden, then you know your plants will grow bigger, stronger, and much healthier if they are fed natural fertilizer. There is evidence that compost will lower the chances of root and leaf diseases in plants, as well as stimulate the growth of healthy plants.
So, if you want a better, brighter, and healthier garden, then natural compost is the way to go. Luckily, composters are being sold worldwide.
One composter that we highly recommend is the Good Ideas EZCJR-BLK 7-Cubic-Foot Compost Wizard Jr. It is portable, durable, and is very easy to use.
The Good Ideas EZCJR-BLK 7-Cubic-Foot Compost Wizard Jr, or the Compost Wizard Jr for short, is a pricey but exceptional composter. It is BPA (Bisphenol A) free, which means it doesn't contain nasty chemicals that will alter your hormones. It is also FDA approved, so rest assured that you and your children will be safe.
The Compost Wizard Jr also comes fully assembled, so that means less hassle and more composting to be done.  It is also great under the sun and will provide a steady temperature that will speed up the composting process. Faster and better composting is at your disposal with the Compost Wizard Jr.
Features of the Good Ideas EZCJR-BLK 7-Cubic-Foot Compost Wizard Jr
The composter has a 7 cubic foot capacity.
The composter is easy to maintain.
Comes fully assembled when ordered.
Guaranteed safe for children and pets.
FDA approved.
12-inch large lid.
It is designed like a wheel for easy composting.
Dimensions of 22 x 23.5 x 30 inches.
The composter weighs 27 pounds.
Weatherproof and made to be rugged.
It comes with wheels.
Has a 1-year limited warranty.
It comes with an instruction manual. Very easy to understand.
It has a maximum volume capacity of 50 gallons.
It has an 18-inch opening.
Absorbs heat with its black colors.
Made from 100 % industrial polyethylene.
Roller wheels are made from nylon.
100% made in the USA.
Pros
No real assembly required since it comes fully assembled. Just remove it from the box and you're good to go.
The compost is rodent-proof. No rodents or other pests can enter since it is sealed tightly. And it is made of very thick plastics, so no rodent can claw their way through and get to your compost.
The composter is BPA free and FDA approved, which makes it safer for you and your children.
The entire weight of the composter is on the rollers, which makes it incredibly easy to turn.
The composter does not freeze easily when placed in snowy or cold areas.
The composter contains a large opening for shovels and other equipment to fit and do their jobs.
Extremely simple design, but very effective. Can finish a compost within 3 weeks if the composting is done properly.
Very fast composting process. You just need to turn the compost from time to time to ensure efficiency.
It can hold a large amount of compost. Probably about 40 to 50 gallons.
The composter is very mobile and portable because of its wheels.
The composter is easy to use, even for children.
Black plastics absorb heat for faster composting It makes sure your compost keeps cooking, even on cold winter days.
The composter is lightweight and can be carried by a single person.
Heavy winds, rain, and snow. The composter is weatherproof all year round.
Cons
You need to shovel or dump the compost out when it is done. So it is quite a hassle.
It doesn't have defenses against large animals like bears.
The composter doesn't have a fast drainage system. Customers even consider drilling holes in it, just so they can drain it properly.
It cannot be shipped internationally.
See Price on Amazon
Our Verdict
We give the Compost Wizard Jr a rating of 4 out of five stars.  It has superb quality, a strong design is pest-resistant, and composts like a champ.
The Good Ideas EZCJR-STA Compost Wizard Starter Kit is a great choice if you want to start out composting.  It is fully assembled so it will save you the trouble of assembly and comes with a 1-year warranty. It is FDA approved and does not contain any BPAs, so you are guaranteed to not be poisoned.
What truly makes it great for beginners is its simplicity and efficiency. Just follow the instructions that come with it, and you'll be composting in no time!