Composters and other gardening equipment are rarely considered "cute" but the Envirocycle actually makes a case for itself.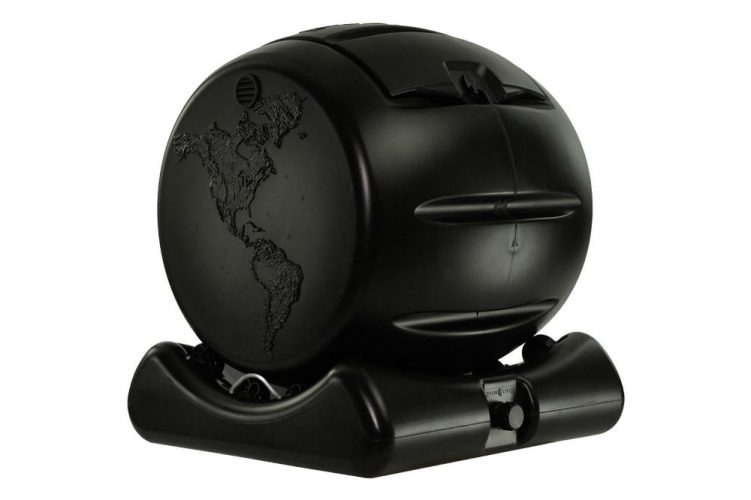 Dubbed as the "Cutest Composter in the World," this product is really bound to catch some attention. If not for its actual look, their bold proclamation would make people look twice.
Its selling point is unique because not every composter will want to be known for its looks. It's not the point anyway, as they need to perform better than look great.
Check Price on Amazon
However, it wouldn't hurt if your gardening equipment looks nice. Since they will be sitting outside for guests and neighbors to see, why not go for something that will add some visual interest to your outdoor space?
The Envirocycle does all this without forgetting about functionality. Its design alone makes it highly productive. The combination of a barrel and a base in its design promises ease of use.
The barrel has nice, deep ridges that you can hold onto when turning, so you don't have to struggle to move a full composter. You also don't have to worry about an axle breaking over time as its base is designed with wheels on top to assist the barrel when rolling.
The base also doubles as a container for compost tea. When the liquid from your tumbler is draining out when it's turned, the base will easily catch the fluid with its draining vents.
It can hold up to a gallon of liquid, so you can easily store them while your compost stews in the barrel. If you don't want to use the base as a compost tea tank, you can easily close up the vents with the plugs that come with the unit.
Another thing that people like about this product is its choice of material. The Envirocycle stays true to its purpose of making use of waste as it's also made of 100% recycled plastic.
If you're worried about the quality, don't be. This item also has UV and antioxidant protection so you can leave it outside without worrying about the sun melting your composter.
The only downside? It's the price. This one comes with a hefty price tag, especially for its size. However, if you'll factor in its construction process, the price is quite easy to justify.
It's made of durable recycled plastic that's also food-safe, non-toxic, and capable of withstanding the harsh elements anyway, which can make the price worth it.
It's also made in the USA, so you're not just guaranteed top-notch quality. It also means that you're supporting the local industries. All of these can make one reconsider that the price is actually very reasonable.
[divider style='center']
Features of the Envirocycle: The Cutest Composter in the World
100% Recycled Plastic
Solid Drum and Base Design
UV and Antioxidant Protected
Food-Safe and BPA-Free
8 Drain Plugs
2 Side Vents
Wheeled Base
17-Gallon Drum Capacity
1-Gallon Base Capacity
5-Year Limited Warranty
Pros
Made in the US
Highly unique and innovative design
Solid construction guarantees durability
Makes solid and liquid compost
A large door with a latch lock ensures ease of access and a secure closure
Very easy to use
Easily rotates on its base
Doesn't require any assembly
Compact size will let you make your own compost anywhere
Base doubles as a compost tea container
Made of recycled plastic
Can withstand exposure to the sun
Food-safe material
Comes with a getting started guide
Deep ridges provide good handles for turning
Wheels on the base make turning the barrel a breeze
The 5-year warranty guarantees durability
Also available in regular size
Cons
Quite pricey
A few possible points of failure present
Check Price on Amazon
Who Is It Best For?
Due to its small size, the Envirocycle might not be the best pick for every homeowner out there. However, if you have limited space and a small household that makes a limited amount of biodegradable waste, this composter can be a good pick.
It can fit almost anywhere and is very easy to use, so even if you live in the city with a small outdoor space, this might already do the trick for you.
If you really like the look, though, there's really no reason not to get this product. You can just get the bigger size or even multiple units like other people did.
This way, you can still take advantage of its innovation without sacrificing the amount of waste you can process.
[divider style='center']
Verdict: Should I Buy It?
If you're in the market for a compact composter that will fit in your tiny backyard or apartment veranda, then the Envirocycle Mini Composter can really be a good option.
It offers all the functionalities you need in a good compost tumbler in a small package, so why not give it a shot?
Its additional features can also come in handy so it can give you more value for your money. The fact that it's cute also doesn't hurt.