Recycling has become a thing these days. And recycling organic waste is a good way of preserving and creating a better environment.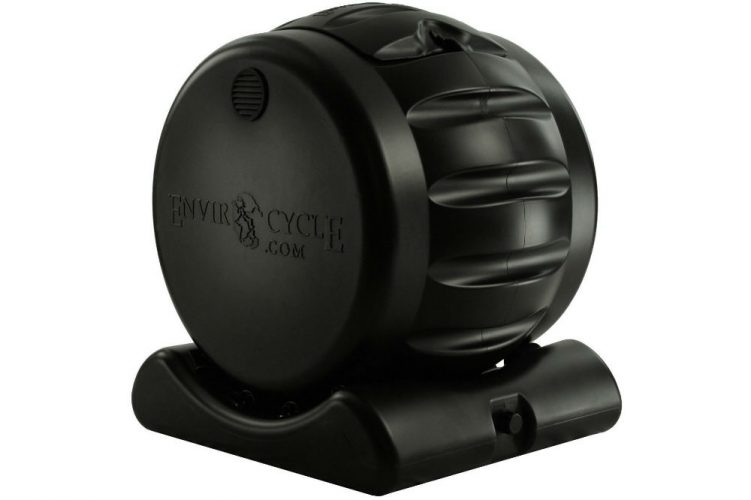 Composting is a process of recycling organic materials and turning them into rich and livable soil.
Composting has a lot of benefits, especially if you have your own backyard garden.  Your plants will become healthier and will glow with a vibrant green.  If everyone composted their organic waste, then the world would become a greener and livelier pasture for all living things.
See Price on Amazon
Lucky for you, composters are ready and available on the market.  And as a matter of fact, we have a composter that we believe will catch your attention. It was created by Envirocycle.
Envirocycle presents the Envirocycle Composting Tumbler Bin and Compost, Tea Maker.  Designed to be eco-friendly, this composter is made of recycled plastics. It has a sleek and fashionable design and is so beautiful that it looks more like a beautifully crafted plastic figurine than a composter.
It is really small and can fit easily on the patio, a deck, and even on the balcony of a small apartment. Because of its size, it should really be named, "the cutest composter in the world" instead. But hey, that's our opinion.
Don't let its size and beautiful aesthetics fool you, the Envirocycle composter is no pushover and can do just as well, or even better than larger and more expensive composters.
Features of the Envirocycle Composting Tumbler Bin and Compost Tea Maker
The composter is BPA (Bisphenol A) free.
The most beautiful composter in the world! It is also very cute too!
The composter has a capacity of 35 gallons.
The composter is very eco-friendly. It is made from 100% recycled plastics.
The recycled plastics are very thick and outstandingly durable.
The composter contains an interlocked design, which seals the lid perfectly.
The composter has a weight of 24.6 pounds.
The composter has dimensions of 25.4 x 21.5 x27.7 inches.
The composter is small, easy to carry around, and can be placed just about anywhere.
The composter's wheel cavities are built with an impressive drainage system. It can drain water out while turning.
The composter contains multiple vents to let airflow in and out of the composter.
Fast and reliable composting process. Takes about 4 to 6 weeks to finish.
No assembly required comes fully assembled in the box.
The composter is rodent-proof. It contains latched doors and it is made of strong plastics to keep rodents and other small animals out of your compost.
The composter is perfectly sealed to ensure no odors seep out.
The composter is very advanced and doesn't need water to start composting.
The composter is 100% made in the USA.
Pros
The composter doesn't need any water to start. Just make sure you put 75% green material and 25% brown material.
Its impressive drainage system ensures that excess liquids are pumped out of the composter. A garden hose can also be attached to a spigot found below the composter to drain it of water.
It can be used for decorations and is a great way to liven up your place. Just as the advertising said, it is the most beautiful composter in the world.
The composter is completely odorless when sealed, so it shouldn't be a problem for your neighbors.
Outstanding customer service. The company usually answers your questions in no time and will provide replacements for damaged parts that come with the package. They also take feedback seriously and aim to improve their products.
The composter's small size makes it easy to carry around. It can be placed almost everywhere. It is the perfect composter if you have small gardens.
Very easy to warm, and the composter can keep cooking during the winter
The company really cares about its products. They sometimes reach out to their customers and upgrade their composters for free.
Cons
Bugs and small insects may enter the composter from time to time.
Smaller capacity than most composters.
See Price on Amazon
Verdict
The Envirocycle Composting Tumbler Bin and Compost Maker or the Envirocycle Composter truly lives up to its name. It is the most beautiful composter in the world, and its creator, Envirocycle, truly cares about the environment.
They made their composter as beautiful as it possibly could be because they want the environment to be as beautiful as their composter.
But to get back on track, the Envirocycle Composter is very light, portable, and aesthetically pleasing. But don't let its beauty fool you, the composter performs splendidly, and will make quick work of your biodegradable waste.
We give this composter a rating of 4.8 out of 5 stars because it's really that great.
Aside from exceptional performance, the composter is odorless and is designed to be used anywhere, even in cramped apartment spaces.  You won't be bothering your neighbors with the smell.
So, if you want the best composter that you can get your hands on, then get your hands on the Envirocycle Composter. It is a bit expensive but worth the money.